THE VERSATILE ROTARY STORAGE CABINET
by Frank Herrera, on August 25, 2020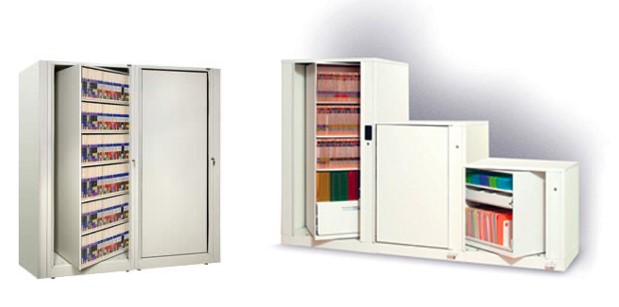 INTRODUCTION
Let's face it. The storage dilemma, or more appropriately, "storage headache," is not new to most businesses. Storage used to look like mile-high stacks of paper on desks, or boxes piled up in office corners (funny how both are still the case sometimes!).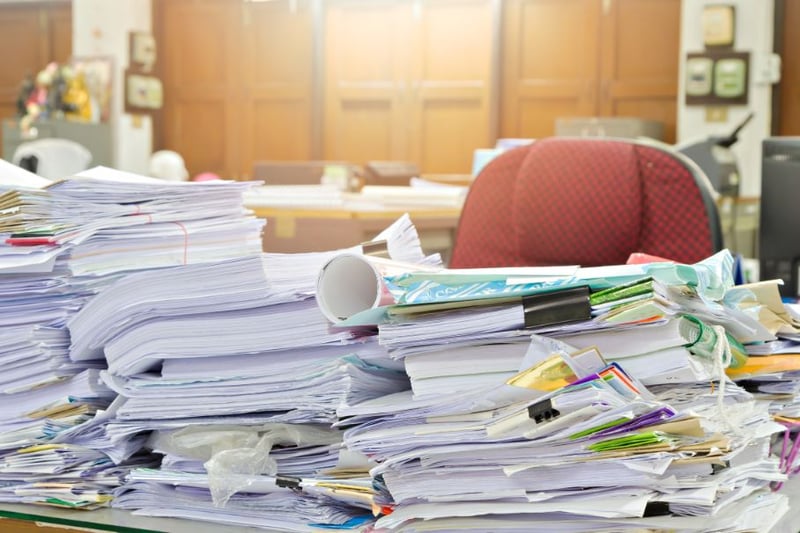 But with the passage of time, those inefficient systems gave birth to the lateral filing cabinet and other stationary shelving systems.
Stationary shelving systems have been around longer than your great grandmother! Don't get me wrong, these systems have also evolved and still serve businesses well in resolving storage and record keeping headaches.
However, in the never-ending quest to improve efficiency and solve lack-of-space issues, many other material handling solutions have been developed since the lateral file revolution.
Enter the rotary storage cabinet. Drawing on my experience in sales and installation in the material handling industry for over 15 years, I will describe the main features and best uses of this versatile, space-saving rotary cabinet.
Features of a Rotary Storage Unit
Construction
At its most basic level, a rotary storage cabinet is a rotating cabinet housed inside stationary housing. The base assembly is the foundation of the rotary unit, with the interior cabinet rotating on an axle at the base.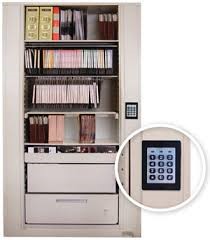 The interior unit rotates with either a push of a foot pedal, hand-controlled release, or keypad.
The interior unit ideally rotates and stops at each quarter turn, with dual (front and back) shelving banks to store media. To illustrate, if you were operating the rotary unit starting from a closed position, at the first quarter turn you would see an open shelving bank, at the second quarter turn, you would see a solid closed panel, at the third quarter turn, another open bank of shelving, and at the 4th quarter turn, you are back to the solid closed panel position.
Store More in Less Space
Rotary storage is usually presented as an alternative to or replacement of lateral filing cabinets. Rotary cabinets offer a more compact storage solution while maximizing storage space. Its smaller footprint gives businesses more floor space with compromising on storage area.
For example, one 7-Tier rotary unit can hold the equivalent of three 36" lateral files using half the space. This makes space previously used for storage available for more productive uses, such as collaborative work areas, conference rooms or additional staff spaces.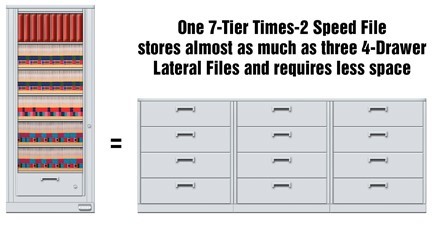 Rotary units can be installed as a single unit or combined with other units in a variety of configurations.
Security
The rotary unit can be locked with the solid panel facing outside, providing security and prohibiting access to the media in the shelving banks.
This is especially helpful in the law enforcement, military, museum, and pharmaceutical industries, including places where the public may gain access with little effort. Contents such as weapons, artifacts, drugs and confidential files can be secured at any time, especially after hours.
Rotary Cabinet Dimensions
As with lateral cabinets you can order in a variety of sizes. The sizes accommodate various types of media including letter, legal, EDP and A4 file folders.
Heights: Several heights ranging from credenza style (29 1/2"H) or up to 92 ½" H for taller storage cabinets.
Widths: 30 ¾" to 45 ¼"
Depths: 25 inches for letter files and 31 inches for legal files
Note: Dimensions may vary depending on manufacturer.
Rotary Cabinet Shelf Configurations
You can configure the tier space within a rotary unit multiple ways:
Rollout Hanging Folder Frames
Rollout Accessory Drawers
Adjustable Reversible Shelves with or without dividers
Rollout Tub Drawers
Rollout Reference Shelf
Specialty Racks for rifles, handguns and ammunition
Subdivided space for hanging clothes and cubbies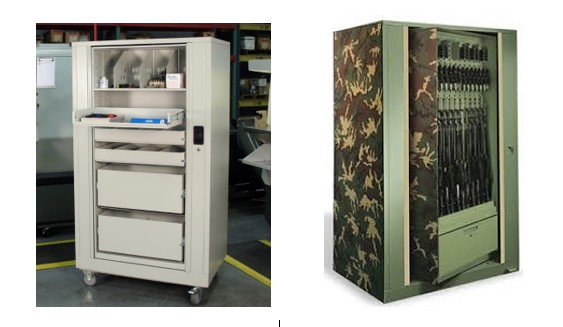 If and when your media storage changes, you can reconfigure the interior of your rotary unit to accommodate different media at any time.
Options & Accessories
Rotary cabinets can be configured in a variety of ways to suit the intended application--from automotive shops to healthcare to professional office settings and everything in between.
Dividers: Dividers can be utilized in a rotary cabinet to accommodate letter, legal, extra tall or extra short media.
Countertops: Metal, Wood-Tek, Granite, Green Composites (tempered glass with recycled glass). Countertops can be installed on top of the cabinets to form an island or credenza with storage underneath.
Colors and Finishes: Choose from many different colors. For healthcare, education and clean room applications, you can select an antimicrobial finish.
Other Options:
Endpanels and door panels can be covered with fabric or wood finishes for a more aesthetic appearance
Pegboard to hang small bins or tool hoods can be installed on the exterior of the cabinet, along with adjustable work shelf
For collaboration or general staff uses, a marker board overlay creates a convenient way to take notes, post reminders, or collaborate projects in a war room
Best Uses For a Rotary Cabinet
Anywhere traditional lateral cabinets are used is an ideal application for rotary storage systems. Rotary storage will increase your storage capability and conserve space in these environments:
CORPORATE
MUSEUMS
HEALTHCARE
RETAIL
SCHOOLS AND COLLEGES
LAW FIRMS
MILITARY & POLICE
LIBRARIES
PHARMACIES
AUTOMOTIVE
Rotary storage is especially useful in applications where media needs to be secured, such as pharmacy, military, museums, and confidential records.
CONCLUSION
If a rotary storage system can help benefit your business, don't hesitate to contact a storage specialist now. At your request, you can expect the following services: determining the right material handling solution for you, designing your space, installation, warranty and maintenance services. We are also very good at just answering your questions!
P.S. Is there any other storage topic you want to hear about? We welcome your suggestions or comments below.