UNDERSTANDING THE DIFFERENT TYPES OF FREESTANDING STATIONARY SHELVING
by Dallas Campbell, on August 13, 2020

INTRODUCTION
This article is primarily being written to help material handlers and facility managers get a better understanding of different types of commercial stationary shelving and their ideal uses so you can easily identify which shelving will best suit your needs.
Often the questions that plague material handlers and facility managers, i.e., the person in charge, are:
How do you store materials effectively?, How are your materials accessed?, How do you manage your inventory and supplies?, Is your workflow affected negatively by less than optimal material handling processes?
As freestanding stationary shelving is only one solution to a variety of storage needs, I have also provided some helpful links throughout this article to other types of storage solutions. For instance, this article, "What is the #1 Best Storage Solution For My Commercial Workspace" is a great overview of most major material handling solutions.
Now I will discuss the basic features and characteristics of different freestanding stationary shelving systems and ideal applications for each.
OVERVIEW OF FREESTANDING STATIONARY SHELVING
Freestanding stationary shelving products for the commercial industry include:
Case-type shelving (library shelving)
Each of these stationary shelving types have a few things in common:
No moving parts to wear out
Simple maintenance
Accessibility on both sides
Generally easy installation
For the above reasons, stationary shelving is often the simplest solution to start with for material handling needs.
Note, however, that each accessible side of stationary shelving requires a 36" minimum access aisle (wider for forklift access) which means these types of shelving systems generally require more space than other high-density storage solution, e.g., mobile shelving or vertical storage systems.
DIVIDER/4-POST SHELVING FOR FILE FOLDERS

Description
Divider/4-Post shelving comes in one-piece upright units which is divided with shelves. Units are either configured "open" with welded braces connecting the front and back posts, or "closed" with solid metal panels.
Each shelf rests on front and back support bars. Reinforcement bars are generally included for shelves 18" deep or greater to prevent the shelves from bowing. These shelving units can be configured in any formation to fit your space and needs, e.g., back-to-back, long rows, staggered, etc.
Options & Accessories
There are a range of accessories to adapt the 4-post shelving units for different applications such as: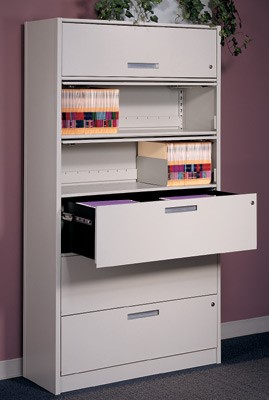 Work drawers
File drawers
Flipper doors
Bin dividers
Adjustable Dividers
Locking hinges
Pullout work shelves
Hanging garment rods
Sliding or tambour doors for security
The open shelves are easily adjustable and can be slotted for dividers or remain smooth.
Load Capacity
Light to medium duty storage capacity, with shelves designed to hold 300-500 pounds each, depending on configuration. Check with your specific manufacturer for exact weight loads.
Installation
Divider shelving is easy to install with boltless assembly.
Best Uses
As one of the most universal storage systems out there, divider shelving is used practically in all business environments, including patient or client record rooms, construction offices, architecture firms, law firms, corporate offices, museums, colleges and universities, and more.
LIBRARY SHELVING
Description
There are two basic types of library shelving, cantilever and case-type/4-post shelving:
1. Cantilever shelving has a central upright frame and shelves that hang on either side. Note that lateral racking can occur with cantilever shelving
2. Case-type/4-Post shelving is similar to closed divider shelving, except the upright has a dual wall. The dual wall prevents media from getting hidden or stuck behind the front post from the inside of the unit.
Following is a comparison of features:
Options & Accessories
There are numerous accessories to accommodate all library media collections. Here are just a few:
Rollout drawers
Adjustable shelves with or without adjustable dividers
Dividers and book ends
Pullout reference shelf
Hanging racks
Media shelves
Flip-up periodical display shelves
Sloped shelves
Newspaper racks
Label holders
And more…

Load Capacity
Light to medium duty storage capacity, with shelves designed to hold 300-500 pounds each, depending on configuration. Check with your specific manufacturer for exact weight loads.
Installation
Library shelving is easy to install with boltless assembly.
Best Uses
Library Shelving is most often used in public libraries, law libraries, higher education, architectural & design firms, and bookstores.
ROTARY FILE CABINETS
Description
A Rotary File Cabinet is a double-sided shelving cube contained in a cabinet. The cube rotates in quarter turns (or free spins) on an axle to access open shelving. The cube can be rotated to the closed position (side panels facing forward) and locked to prevent access to its contents.
Rotary units can also be installed as a dividing partition or wall between work areas, with file access to both sides.
Rotary Cabinets are a space saver! One 7-tier rotary unit can store as much as three 4-drawer lateral file cabinets in half as much the space!
Options & Accessories
Rotary cabinets can be configured in a variety of ways to suit the intended application with the help of the following accessories:
Rollout Hanging Folder Frames
Rollout Drawers
Adjustable Reversible Shelves with or without dividers
Weapons Racks
Rollout Tub Drawers
Rollout Supply Drawers
Rollout Reference Shelf
Mobility. Rotary cabinets can be put on casters for mobility.

Exterior Design Functionality. Pegboards and fabrics can be added to the top and sides of a unit. Countertops in wood, granite and other materials can be added to a unit for a more aesthetic look.
Load Capacity
• Letter size shelf and drawer capacity is 100 pounds each
• Legal size shelf and drawer capacity is 110 pounds each
Installation
Professional installation is required.
Best Uses
Rotary cabinets are perfect for any media that requires secure access: medical files, pharmaceuticals, museum collections, personnel files, sensitive data, weapons, tools, or any item that needs to be secured.
Rotary cabinets can be found in libraries, automotive shops, education settings, law enforcement, healthcare, government, law offices, museums, and service industries.
WIRE SHELVING
Description
Wire shelving provides strength, durability, visibility, airflow, and supports a clean environment. Fire sprinklers are able to reach all levels and stored materials are easily identified.
Options & Accessories
Bins
Wire Mesh Baskets
Wire or solid shelves
Antimicrobial polymer shelf cover
Sloped shelves (single or double sided)
Cart Covers

Shelf Dividers
Catheter Slide
Label holders
Push/Pull Handles
Dolly Base
Hooks and Clamps
Casters for Mobility
Bottom dust shelf covers
Wire shelving can be put on casters for mobility, or on tracks for sliding high-density storage.
Weight Capacity Per Shelf Length:
24–48 inches
54 inches
60 inches
72 inches
850 pounds
800 pounds
750 pounds
700 pounds
Installation
Professional installation recommended for sliding wire shelving or large spans of shelving. Single shelving units can be assembled easily with or without casters.
Best Uses
The strength, durability, and flexibility of wire shelving makes it a great solution for healthcare, warehouse order fulfillment, product storage, and retail applications. Air flow makes this a perfect application for cold storage.

INDUSTRIAL OR CLIP SHELVING
Description
Industrial or clip shelving is an all-purpose metal shelving with bolted posts and either braces or panels. Industrial shelving is known for its strength and adaptability in a wide range of uses.
Shelves can be equipped with extra reinforcement for larger installations or higher load capacities. Typically a compression clip is used to support the easily adjustable shelves. Unit heights can be extended and used with a catwalk system to make use of overhead space. It is often used in warehouse and mezzanine applications.
Options & Accessories
There are multiple accessories to accommodate different applications, such as: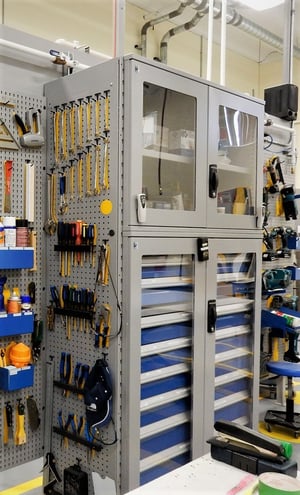 Modular Drawers and Roll-out Shelf
Hinged solid or polycarbonate doors
Flipper Doors
Locking mechanisms
Dividers and Dividing Rods
Rails and spool supports
Adhesive or Magnetic label holders
Solid or Perforated finishing panels for use with light duty hooks
Utility panel for use with hooks, supports, tool holders and small shelf
Louvered panel for hanging bins
LED light
Supply storage and parts bins
Sloped shelves for gravity-feed storage
Hinged tambour doors for security
Load Capacity
The load capacity depends on the width, depth, and gauge of shelf. For example, a 30 inch wide x 12 inch deep 22 gauge shelf will hold 900 pounds. Weight capacity ranges from 250 to 1900 pounds per shelf depending on configuration. Click here for some sample load capacities, but check with your specific manufacturer for exact weight loads.
Installation
Compression clips make installation and shelf adjustment fairly easy. However, professional installation is recommended.
Best Uses
Clip shelving is used in many different industrial settings to store paper goods and supplies to industrial parts. You can often find industrial clip shelving in warehouses, repair shops, distribution centers, automotive parts departments.
WIDE SPAN SHELVING OR PALLET RACKING
Description
Wide Span Shelving, also known as Mini-Racking, and Pallet Racking are large shelving systems using open upright frames and beams for storage of large and bulky items, palletized materials or bundles of small items to be broken out and distributed.
Racking is similar to industrial shelving with the exception that steel support beams are used instead of metal shelves to handle the heavy industrial uses of this type of shelving. Pallet racking, by design, has the highest weight load capacity of all industrial shelving types.
Options & Accessories
The beams on pallet racking can be accessorized with a variety of decking types:
Open (use with full size pallets only)
Wire deck (use to allow water from fire sprinklers to permeate the stack)
Wood decking (use when loose items need a solid surface to sit on)
Solid metal decking (use when a solid, non-reactive or inflammable surface is needed, easy slide surface)
Corrugated decking (usually less expensive than wood. Stronger than wire or plywood, easy slide surface)
Load Capacity
The load capacity per shelf is largely dependent on the shelf dimension and gauge of steel:
The overall load capacity range for mini-racking is 400 to 1,500 pounds

The overall load capacity range for pallet racking is 2,500 to 10,000 pounds
Installation
Professional installation is recommended.
Best Uses
Bulk storage or warehouse applications are the traditional uses for wide span shelving or racking.
CONCLUSION
When considering stationary shelving for your business, if you want to inquire further into 4-Post, case-type/library, wire shelving, rotary cabinets or any industrial shelving, don't hesitate to contact a storage specialist. With a combined 100 years of experience in storage solutions, we will be able to answer your questions and make recommendations at your request.


P.S. Is there any other storage topic you want to hear about? We welcome your suggestions or comments below.