WHY A MOBILE SHELVING SYSTEM IS A GREAT HIGH-DENSITY STORAGE SOLUTION
by Mark Preston, on October 13, 2020
INTRODUCTION
One of the unique innovations that have come out of the manufacturing industry is the mobile shelving system. In its basic form, mobile shelving is standard shelving placed on carriages that roll on a track.
Mobile systems have been around for a long time and are referred to under many different names: mobile shelving, mobile aisles, rolling racks, compactors, mobile aisle track shelving, high-density shelving, etc.
In this article I will describe in more detail what a mobile system is, its primary purpose, how its flexibility and versatility allow for a wide range of storage applications, including examples of uses, and most important, the benefits to your business!
WHAT IS A MOBILE SYSTEM?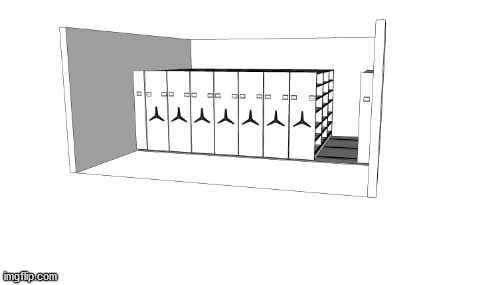 The mobile system is a high-density storage system that places standard shelving, racks, and cabinets on rolling carriages which are then placed on floor mounted tracks. The carriages then move along the track, compacting together when an aisle is opened to allow access to the shelving contents. Aisle ways are opened either manually or electronically by the operator.
Patented rail designs and mechanical assist handles allow shelving to move smoothly and securely without much effort.
Designed for a Purpose
The primary purpose of a mobile system is to maximize your existing storage space. It is designed to eliminate the wasted aisle space required by stationary lateral shelving systems. A mobile system also makes use of vertical space, up to 28 feet, thereby increasing your capacity to store not only laterally (eliminating aisles) but vertically (utilizing unused air) in the same amount of space. For these reasons, it is referred to as a high-density storage system. The mobile system eliminates dead space and utilizes it for greater efficiency, productivity, and storage density.
As an example, if you are currently using standard filing cabinets, you can cut your storage space by 50-75%, using the extra space for more productive uses, or for more storage, as you choose.

Flexible and Versatile Storage
Mobile systems offer flexibility in that they can be configured to different depths, widths, and heights (see "Dimensions and Load Capacity" below), accommodating many different types of spaces.
Mobile systems offer versatility allowing for a variety of storage items as they can be equipped with standard shelving, library and box shelving, cabinets, locks, security doors, art racks, weapon racks, garment racks, filing drawers, browser boxes, etc.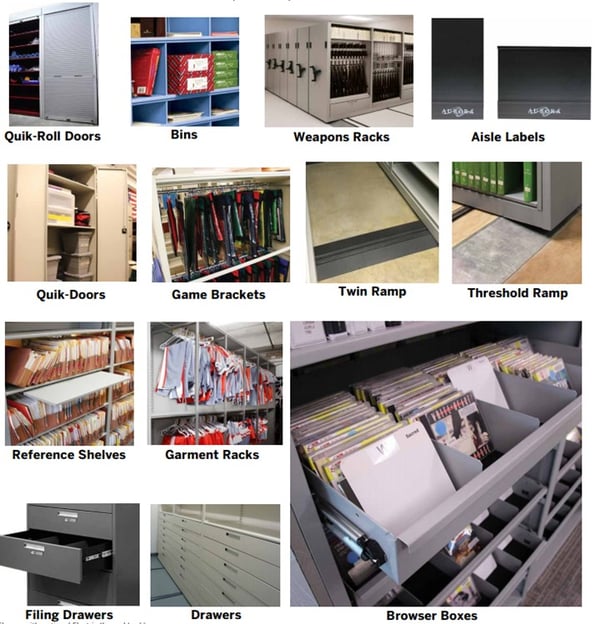 For the industrial sector, carriages can also be loaded with wide-span shelving or pallet racking which can be configured to meet your specific storage needs.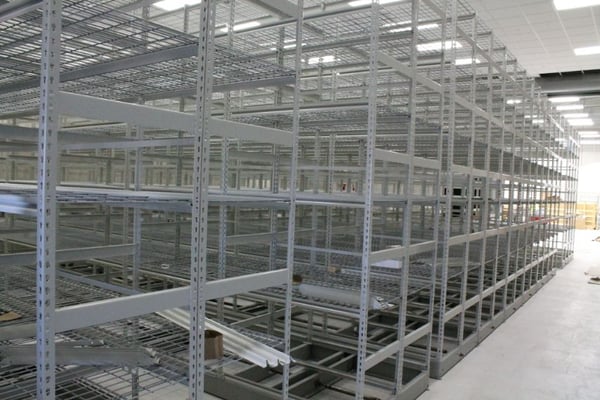 The flexibility and versatility allows for a vast array of storage capability from pallet loads to sports equipment, linens, towels, files, boxes, bins, small to medium size parts, tires, artwork, auto parts, tooling & dies, artifacts, books, tools, aerospace parts, medical supplies, weapons, and more.
Safety and Security
High-Density Mobile Shelving can be secured with tambour doors, and/or locking doors, drawers, and cabinets. Entire banks of mobile carriages can be secured with aisle safety locks which prevent carriages from moving until unlocked. Additional safety features stop carriage movement when a user is in an open aisle.
Mobile systems are widely used in libraries, education, healthcare, government, automotive, corporate, public safety, museum, and entertainment sectors.
Dimensions and Load Capacity
Check with your storage specialist for the build-out you will need, but the typical range of dimensions and load capacity for a mobile system are as follows:
| | |
| --- | --- |
| HEIGHTS | Typical heights are 7 to 8 feet but can go as high as 28 feet depending on the application. Mobile systems can also be designed for more height. |
| LENGTHS | Carrier lengths are typically 21 feet to 28 feet |
| DEPTHS | Shelving depths can be anywhere from 9 inches to 8 feet |
| LOAD CAPACITY | Up to 1,000 pounds per linear foot, however, can be designed for more weight for heavier applications |
BEST USES FOR MOBILE SYSTEMS
Here are a few real examples of how mobile systems are used in different industries:
Air Force and military bases use high-density mobile storage to keep weapons and tactical gear organized and secure
Museums use the mobile system to store a variety of art, media, artifacts, and various collections, keeping them safe yet easily accessible
Healthcare facilities use mobile systems to compact the storage of patient records, medical equipment, and supplies
Libraries use high-density mobile systems for all media to efficiently utilize space and maximize shelf height
Police departments use high-density mobile systems for evidence, weapons, and records storage
Automotive industry uses the systems, along with modular drawers, for efficient and accessible large and small parts storage
HIGH-DENSITY MOBILE SYSTEMS BENEFIT YOUR BUSINESS
In summary, a mobile system makes a great high-density storage solution for you for the following reasons:
Recover 50-75% of your floor space by eliminating wasted aisle space and using overhead space. If you have more to store than you have room, this may be the answer for you

Significant cost savings are realized by maximizing storage in your existing space versus having to expand your real estate footprint
Improve accuracy and productivity by centralizing your storage into one area, improving access to and visibility of your products and supplies, i.e., reduces steps and time looking for items (save time + save labor costs = return on investment (ROI))
Security – protect from loss or theft with locking drawers, doors, and cabinets
Reduce the risk of injuries with aisle safety lock and optional safety features
CONCLUSION
If you are out of storage room and space, or just thinking about improving the performance of your workspace, you may want to consider a High-Density Mobile Shelving System. There are many more solutions to storage issues and this article, "What is the Number 1 Best Storage Solution for My Commercial Workspace?" may guide you to your perfect solution.
In any event, do not hesitate to reach out to a storage specialist. With over 100 years of combined experience in storage solutions, we are here to provide you with the information you need about all things storage.
PS. Is there any other storage topic you want to hear about? We welcome your suggestions or comments below.