WHAT IS A VERTICAL LIFT MODULE AND HOW DOES IT BENEFIT MY BUSINESS?
by Scott Olpin, on August 28, 2020
In 1913 Henry Ford built the first assembly line ever for vehicle production. What used to take 12 hours and 13 minutes to build a single car (the fastest time clocked by Ford), changed to a mere 1 hour and 33 minutes! Labor intensive processes were shaved drastically and mass production was born with Ford revolutionizing the automobile industry!
BETTER, FASTER, CHEAPER
Well, since 1913, many advances have been made to make industry "processes" better, faster and cheaper. In this article I am going to talk about just one of those innovations: The Automated Vertical Lift (also referred to as "VLM" or "Vertical Lift Module"). I will cover the following points:
What a Vertical Lift is and some of its key features
How a VLM can dramatically benefit your business processes
Examples of VLM applications
Whether or not a VLM is right for you
Major Manufacturers of Vertical Lifts
On a side note, the Vertical Carousel is considered closely related to the Vertical Lift, however with distinct differences and applications. This article, "What is a Vertical Carousel and How Is It Used?" will give you additional insights into the Vertical Carousel.
WHAT IS A VERTICAL LIFT MODULE?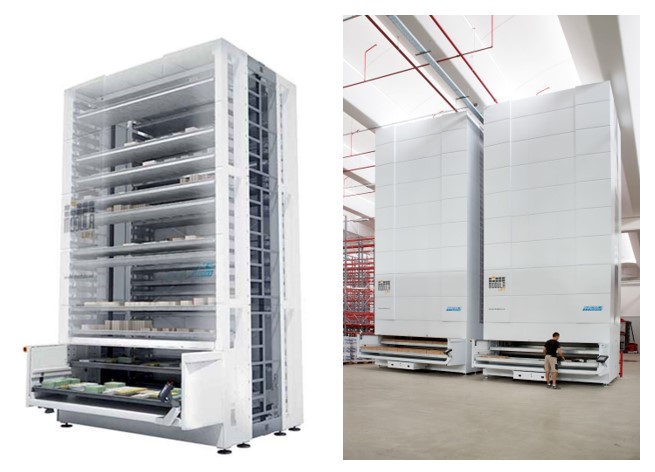 You could say that the first automated vertical lift was the elevator, first built in 1853 and powered by steam. The VLM is often referred to as an automated storage and retrieval system, but really is just a highly advanced delivery elevator. First, picture two (2) walls of vertical storage shelves that are anywhere from 20' to 100' high and facing each other. Then, an elevator (electrical lift) is placed between the two rows of facing shelves. The elevator, or lift, goes up and down in between the walls. When electronically directed the lift will stop at a shelf, retrieve a tray containing selected items, and bring it to the operator where the item is then "picked" from an operator bay. The entire wall/lift system is fully enclosed for safety and security.
SOME KEY FEATURES OF A VERTICAL LIFT
However, a Vertical Lift Module is really much more than that. Below I will highlight some key features that really make a lift revolutionary (Note: this is not a comprehensive list and some features may vary across industry):
Dynamic Storage
VLMs use sensors that measure the heights of product placed on its shelving trays. The software installed with a lift then calculates those height measurements and directs the VLM to store its trays dynamically, in other words, as close as 1 inch to the tallest product on the tray. This feature eliminates unused airspace between shelves and maximizes storage density.
Trays
VLMs can be configured with trays that hold different weight load capacities on the same shelf, an advantage for varying inventory. However, even though trays come in different sizes, tray depth needs to be uniform for any given machine. All trays can be partitioned with dividers, bins and boxes.
Single Tray Output
A VLM can be configured with single or dual tray output. A single tray output is a system where one tray is picked by the lift, then delivered to the operator.
Dual Tray Output
A dual tray output allows for faster picking. One tray is being picked by the lift while another tray is simultaneously being delivered.
External Bay

An external bay is an independent operator bay that extrudes from the unit opening. It offers the best possible ergonomic workspace for operators. The lift delivers picked items to the external bay. External bays are also ideal if the operation requires crane assist or other mechanical manipulators that lift heavy items stored on trays.
Small Parts Counting
Another optional feature is a picking scale made for counting small parts. The scale interfaces with the unit's software which has been programmed with the parts' inventory SKU numbers. Here's how it works: An operator needs to pick 200 bolts. The operator instructs the lift to pick the tray where the bolts are located. When the bolts are delivered by the lift to the operator bay, the operator then places handfuls of bolts onto the scale and when 200 bolts are achieved (by weight) the operator will be notified. Beats counting one-by-one!!
Picking Aids

Optional aids are available for electronic and visual indication of items such as:
Barcode scanner.
An LED light bar placed on the front of the VLM unit indicates the location of the item selected.
Image confirmation. When electronically picking, an image associated with the item is displayed on screen, giving the picker visual confirmation of the item.
Put-to-light is a system that breaks down larger quantities of product into individual customer orders. The system uses light devices to direct operators to 'put' items from a large batch into an individual customer order, i.e., operators scan bar codes on individual pieces of merchandise, then lights turn on at individual customer orders requiring that product.
Laser Pointer. When a tray is delivered to the operator bay, a laser pointer will illuminate the exact bin or box containing the item to be picked.
Software
VLMs are equipped with WMS (warehouse management software). There are a variety of different software packages depending on your needs: from basic to Ferrari.
Some packages contain pretty impressive inventory management systems and other features, e.g., access to shelves can be limited depending on user level of authorization; being notified when inventory is low and needs to be restocked; advising you of material and pack type and expiration date, analytical reports, etc.
The VLM Software is generally installed by specialized technicians, but warehouse software configuration is always done with the assistance and input of the client. Software will generally integrate with standard ERP systems (ASCII, DRC, XML, etc.).
A VLM WILL DRAMATICALLY BENEFIT MY BUSINESS PROCESSES – CUSTOMER COMMENTS
Before I get into my key points, this Case Study of Subaru of New England shows how an independent distributor solved their parts storage and retrieval issues by installing nine (9) Vertical LIfts, dramatically improving their business.
Below are some key points to support a VLM making business processes better, faster, and cheaper (just like Henry Ford and the assembly line).
Maximize Storage and Save Space
Let's be real, real estate is expensive! If you do not want to pay the additional cost of renting more storage space, or moving to a larger facility, going vertical may be the answer. It is possible to save up to 90% of floor space by going vertical.
For example, 9,050 square feet of traditional storage can be moved into only 150 square feet of vertical storage! The amount of space you save will, of course, depend on how high your ceiling is, the higher the ceiling the more you can store vertically.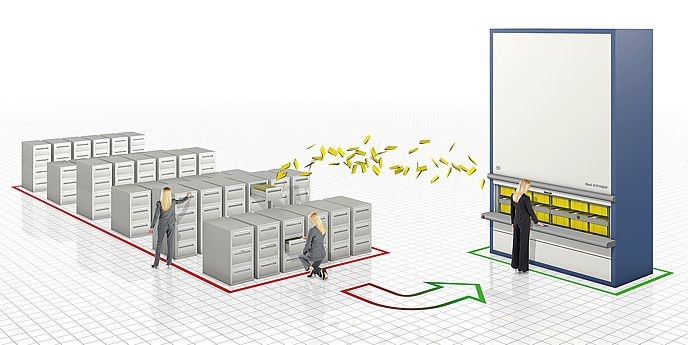 No copyright infringement intended

Actual Customer Comment:
Surgical Instruments: Aaron Ingram - Product Operations Manager - Innomed, Savannah (GA) – USA
"If we wanted to stay in our current building, our only option was to use the vertical space for additional storage. The Modula system was able to store approximately 90% of our inventory – we couldn't believe it!"
Accuracy in Picking
By utilizing the software and picking aids described above, errors are significantly reduced if not eliminated, saving "re-dos", company time, and retaining happy customers.
Actual Customer Comment:
Oil & Gas: Jeff Korkowski, Vice President, Sales & Marketing - Global O Ring and Seal, Houston (TX) – USA
"I love the interface between Modula and our ERP system, which allows for a seamless transfer of a client order to the operation team. That can make all the difference in the world for our customers."
Productivity
One of the greatest advantages of a VLM is the reduction in picking time and increase in productivity. Not unlike Ford's assembly line, the automated delivery of thousands of inventory items to one user at one location saves time and labor, while simultaneously increasing production dramatically.
For example, instead of 5 users going to multiple locations in a warehouse to pick 20 parts for 10 packages (200 parts total); 1 user can pick 200 parts all in one location in much less time with the assist of fast tray cycle times.
Actual Customer Comment:
Electronic Product Design & Contract Manufacturing: Garrett D. VanAtta, Director Supply Chai, Enercon Technologies, Gray (Maine) – USA
"The Modula systems enable us to pick components for kits much faster as the operators used to walk between sections, looking down rows of aisle trying to find a specific location. Now the parts get delivered right in front of them."
Fast Tray Cycle Times
Depending on the size of the unit, you can achieve throughput of up to 190 trays per hour with unmatched accuracy. Again the height, capacity and configuration of a unit affect cycle times, but generally you can count on significantly reduced picking times.
Ergonomics & Safety
Items are brought directly to the user at an ergonomic height. This eliminates a user lifting weight load while reaching, bending or twisting, or from a ladder, all of which are major causes of employee injury. Employers realize savings in reduced employee down time, worker's compensation, and legal fees.
VLMS COME IN A VARIETY OF CONFIGURATIONS AND SIZES
There are multiple uses for a VLM, from small parts, to food, to tooling, to medical supplies, and so on, so it follows that there are multiple sizes and capacities of VLM units to fit your needs.
Unit size, width, depth and storage density can vary greatly depending on your own facility outlay, your product, and your processes. But to give you a general idea, following are some approximate ranges of dimensions and weight load capacities (Note: check with specific manufacturers for exact dimensions and weight load capacities):


VLM APPLICATIONS
In case you're wondering who uses a VLM, here is a list of industries that a VLM will typically benefit. If your industry is not on this list but you can see parallel applications with your business, a VLM may also benefit you:
MANUFACTURING
AEROSPACE
TECHNOLOGY
MILITARY/LAW ENFORCEMENT
PROPERTY AND EVIDENCE
GOVERNMENT
RETAIL SALES & DISTRIBUTION
BIO-PHARMACEUTICAL
MEDICAL MANUFACTURING
RESEARCH & DEVELOPMENT
THIRD PARTY LOGISTICS
HEALTHCARE
CAR DEALERSHIPS
PARTS DEPARTMENTS
WHAT DOES A VLM COST?
I'm not going to lie, VLMs are not cheap. My article on the cost of a Vertical Lift Module discusses in more detail what you can expect when you purchase a VLM and your return on the investment. [To the reader: This will be linked in the next 20 days]
IS A VERTICAL LIFT RIGHT FOR YOU?
Honestly, a Vertical Lift may not be the right fit for you. There are many material handling solutions to custom fit a variety of storage needs. Here are some points to consider when contemplating investing in a Vertical Lift Module:
When a VLM is Right For You
For business where the sheer volume of product has become unmanageable, or management and changeover of inventory is very cumbersome and time consuming
When you need to reduce your storage footprint and/or store more
For products and parts that are less than 15 inches in height (although there are applications for bigger, bulky parts)
For heavy or bulky items that require lifting assistance
For variable inventory, that is, many different sizes and weights
For high volume, frequently-changing and frequently-moving inventory
Your ROI is positive!
When a VLM is Not Right For You
Your facility has low ceilings (although there are some applications to put a VLM on the exterior of a building, cutting through the wall for access)
You have extremely big, bulky, oversized parts
Low activity and minimal inventory turnaround
Your ROI shows that you'll never get a return on your investment
WHO ARE THE MAJOR MANUFACTURERS OF VERTICAL LIFT MODULES?
While there are other manufacturers of Vertical Lifts, the three major manufacturers that have a presence in the United States are:
Modula: A global manufacturer that is well-known internationally. Modula has two manufacturing plants in the United States: Lewiston, Maine and Franklin, Ohio, and manufactures locally for US businesses
Hänel Storage Systems: Operates internationally and exports worldwide with its 3 plants located in Germany and Switzerland
Kardex Remstar: Operates internationally with its principal office in Zurich / Switzerland and 2 manufacturing plants in Germany
CONCLUSION
Determining the best course of action for your material handling is sometimes just knowing which solutions are available and then fitting them to your needs. You may have more questions about vertical storage systems or other storage solutions. In either case, don't hesitate to reach out to a storage specialist. We have a combined experience of over 100 years in material handling solutions.

P.S. Is there any other storage topic you want to hear about? We welcome your suggestions or comments below.